JOIN US FOR THESE GREAT FEBRUARY EVENTS!
Friday, Feb 16 through Sunday, March 4
Sky Federal Credit Union & The Blue Slipper Theatre Proudly Present:
Join us for a terrific re-telling of a timeless story. A tyrannical leader, a brave woman, a conflicted public. What could be more timely!  Click here for tickets, or call the theatre at 222-7720 for reservations.
***
Feb 22, 2018-One Night Only!
Livingston Monologues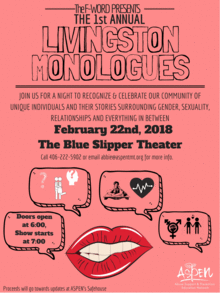 ASPEN's student discussion group, The F-word (F for feminism), is putting on this first annual event to bring voices to the stage and awareness to the Park County community.
The first annual Livingston Monologues is a night of performances aimed at recognizing and celebrating our community of unique individuals and their stories surrounding gender, sexuality, relationships and everything in between.   Doors will open at 6:00, performance will be from 7:00-8:30 pm. Light refreshments will be available to purchase before the show.
Proceeds from the event will go towards funds to replace the floors in the ASPEN safe house. Please join us for a night of story and connection. Click here for tickets!